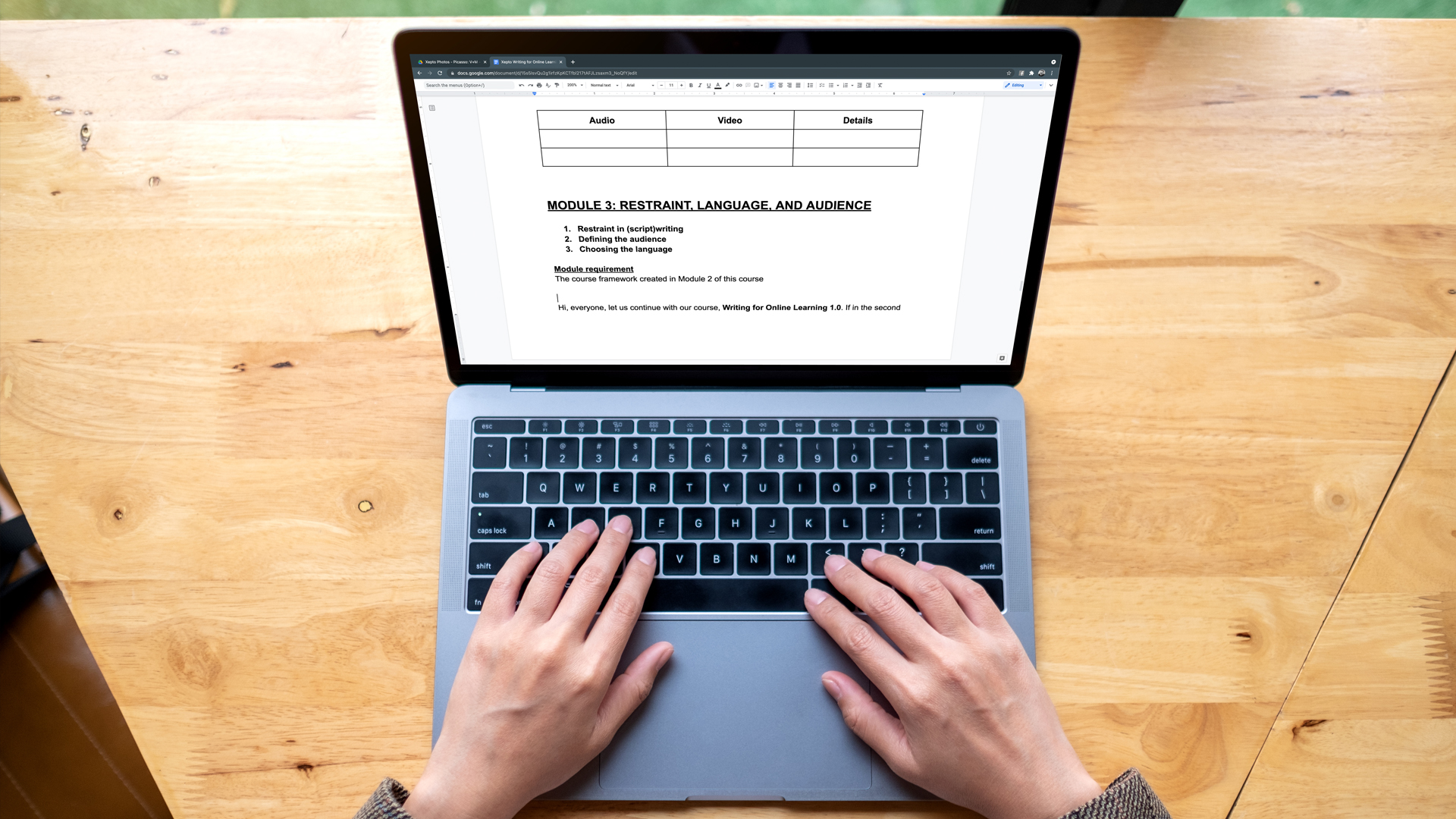 Writing for Online Learning 1.0
Writing for Online Learning 1.0
This course is designed to introduce and guide the learners to the rudiments and process of writing for online learning. The course is divided into a series of modules that present and discuss the essential components of the art and science of writing for online classes—especially in the new normal—with the end goal of developing a script for an online course.

Course starts on

December 15, 2021
About the Course

The COVID19 pandemic has largely changed the terrain of learning experiences in the country. With little to no preparations, our teachers had no choice but to shift modalities, like modular and web-based learning. This course responds to the need to further sharpen skills of course creators by zeroing in on the art and science of writing for online learning. Writing for Online Learning 1.0, the first of two writing courses, is a seminar-type online class that teaches the rudiments and attributes of scriptwriting with the end goal of developing an intial draft of a script of an online course.

What you'll learn?
Discuss the rudiments of writing, with a preferential leaning towards scriptwriting

Develop an online course based on your own lesson plan, syllabus, or course outline

Develop a working script for an online course
Who is this course for?

Teachers

Vloggers/Content Developers

Anyone interested in writing for audiovisual purposes
Additional Inclusions

Certificate of Completion 
Exclusive access to learning materials 
Exclusive access to assignments, activities, and forums 
Course Assessments
Get to know your instructor

Name: Victor Nierva
Institution: Creative Coconut Ph
Job Title: Co-Founder



Victor Dennis T. Nierva is a writer, translator, designer, filmmaker, among others. He has received the National Book Award twice; in 2007 for poetry, and in 2013 for translation.

He is the founder, editor, and host of the multimedia language advocacy Magbikol Kita (www.magbikolkita.com) and has worked with the Department of Education, the Let's Read Asia Foundation, the RTI International, the U.P. Resilient Institute, and other organizations. As a visual artist, he has designed more than a hundred books for various university presses in the country. He taught media studies at the Ateneo de Naga University for more than a decade.

He is the co-founder of Creative Coconut Ph.





Duration
5 hours
Course Type
Self-paced
Category
General Interest
Difficulty Level
Introductory
Premium Access: Php 500
Scan Here
Open in mobile browser
I'm excited join this course! Enroll Now.
JOIN NOW